Who We Are. How We Help.

Rainbow Room
What is the Rainbow Room?
The Rainbow Room is an emergency resource center located within Children's Advocacy Center of Collin County to provide our partners, including Child Protective Services, immediate access to essential items for children in crisis, completely free of charge. This store-like room is stocked with new items for children from birth to 18 years of age, including:
clothing

shoes

hygiene products

toys

baby items, and more
Day to day functioning of the Rainbow Room is handled by a group of 7 committed volunteers. These volunteers keep the room fully stocked, organized and clean.
Who does the Rainbow Room help?
1,178 children received services through the Rainbow Room last year

Children who are removed from their homes and placed in foster care

Children who live with relatives that receive little financial support from the state
In the past, caseworkers dipped into their own pockets to provide the basic items that most families take for granted. This only added to the stress of their job. Now, caseworkers can use this emergency resource center to offer tangible help to families in need.
Sometimes the difference between whether a child can go to school is a simple pair of shoes. The goal of the Rainbow Room is to eliminate that barrier.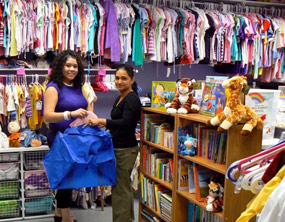 How you can help the Rainbow Room
Donate new items (clothing, hygiene products, etc.). Get your neighborhood, school, church group or corporation involved by holding a clothing drive, shoe drive or diaper drive.
Donations may be dropped off at the Center during business hours:

Monday – Thursday
8:00 am - 8:00 pm

Friday
8:00 am - 5:00 pm

Saturday – Sunday
Closed

Want to donate items but don't have time to shop? View our Rainbow Room wish list on Amazon.com and have your donations shipped directly to the Center!
2205 Los Rios Blvd.
Plano, TX 75074

Phone(972) 633-6600
For more information:
Contact Erica Stanley at 972-633-6738 or estanley@caccollincounty.org.
Current items most needed for the Rainbow Room:
Girls Clothing (Sizes 2T - 10/12 Shirts & Pants)

Light weight jackets for girls

Junior women's tops

Athletic shoes – all sizes, girls and boys

African American hair products

Lotion

Infant toys

Developmental toys

Boys Clothes All Sizes (Pants & Shirts)

Teenage Girls Shirts

Toddler Boys Socks

Boys Briefs 2-4-6-8

Toddler Girls Socks